Search found 99 matches
by pjw

11 Jan 2019, 05:40
Forum: Trackmania² Reports
Replies: 18
Views: 2939
Just a quick note on this, in case anyone else is getting it, or finds this thread via Google. I've found a way to (so far) reliably prevent the crash from happening. To do this, I open up NVIDIA Control Panel and turn on Help --> Debug Mode . That's it. As long as Debug Mode is on, the crash doesn'...
by pjw

28 Nov 2018, 05:39
Replies: 17
Views: 734
The internet is hard, apparently.

Here: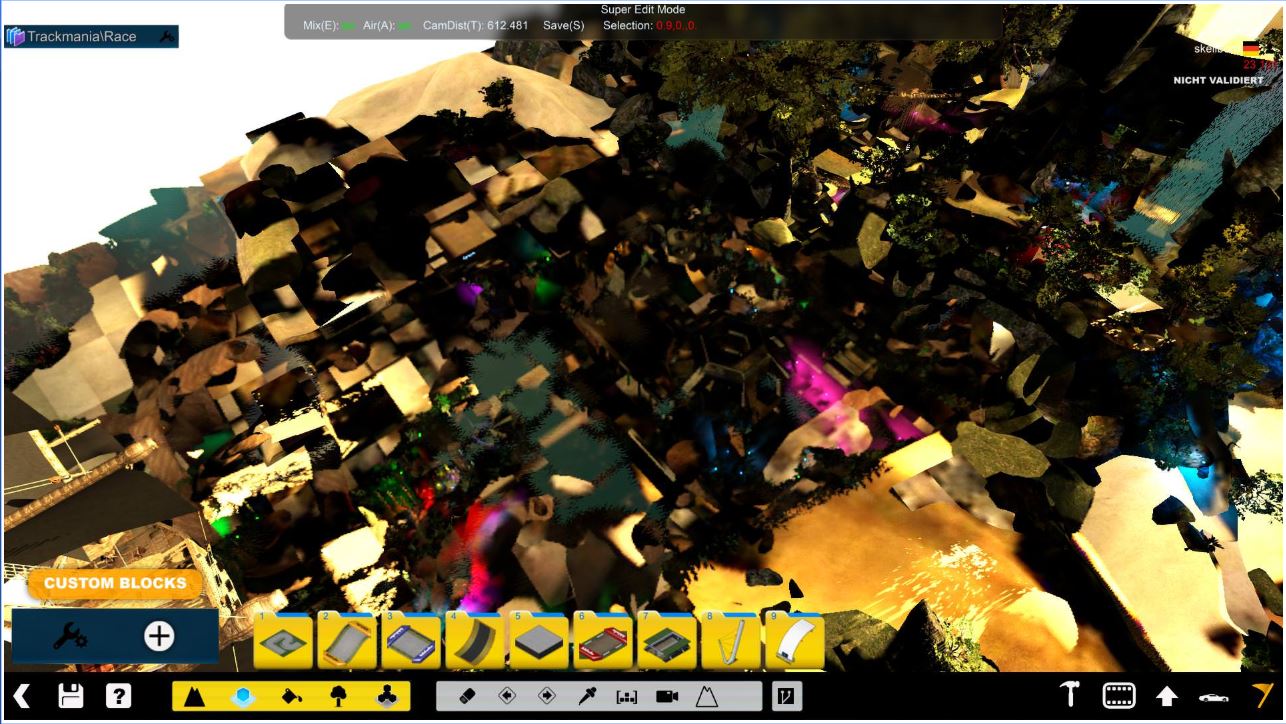 by pjw

28 Nov 2018, 05:32
Replies: 11
Views: 539
I'm not sure all the issues related to this have been fixed yet. If i remember correctly, before, when the race cam in the mediatracker was set to "default" there would be some camera changes in the loops & cie to be in cam2 while the rest is in cam1. Now the ghost (for a GPS for instance) is shown...
by pjw

21 Nov 2018, 19:38
Replies: 11
Views: 539
Thank you for the clarification!
I hope you enjoy your day as well, once the dust settles a bit...

by pjw

21 Nov 2018, 06:55
Replies: 0
Views: 82
Repro: 1) Open the Stadium editor. 2) Enable ghost block mode via Advanced Customization Tools and toggle it on. 3) Place one block 5-5-6, floating in mid-air. 4) Turn on the eraser tool and attempt to delete it from various angles. 5) Notice that the block will only highlight from specific camera a...
by pjw

20 Nov 2018, 18:49
Replies: 11
Views: 539

Thank you noyranea!
Edit: I'm still seeing the same behavior after a Steam update (ManiaPlanet 2018-11-20_17_21), so I assume this fix hasn't been pushed yet? Is there any sort of ETA re: when we should see this fix in an update?
by pjw

20 Nov 2018, 15:55
Replies: 24
Views: 1071
+1 on this. I can come up with a number of reasons why a physics change might be necessary or unavoidable, but it would be nice to get certainty one way or the other. If we're stuck with the change, well...life goes on. On the other hand, if this is a bug that will be fixed, that would be welcome ne...
by pjw

20 Nov 2018, 00:15
Replies: 11
Views: 539
Hello noyranea! It wouldn't really help for me to send you a replay, because the issue is the same with all replays. Old replays, newly created replays...they all exhibit the same behavior: 1) If I open up any specific map in the editor and enter the media tracker and go to the "End Race" section, I...
by pjw

18 Nov 2018, 04:17
Replies: 5
Views: 346
Yep, I'm getting camera issues too (with custom cams). It's not just you.

(See
viewtopic.php?f=659&t=45070
)
by pjw

18 Nov 2018, 03:01
Replies: 11
Views: 539
Thanks for that. It's such a feeling of relief to get confirmation that it's someone else's problem and not something I did.
Edit: Missed this earlier; see
viewtopic.php?f=659&t=45063