If you don't know what this is about click here
Well let's face it. Calling this Invite System Free2Play is like calling Star Wars the Old Republic Free2Play. Technically they are both free but you feel more like a prisoner than a paying customer.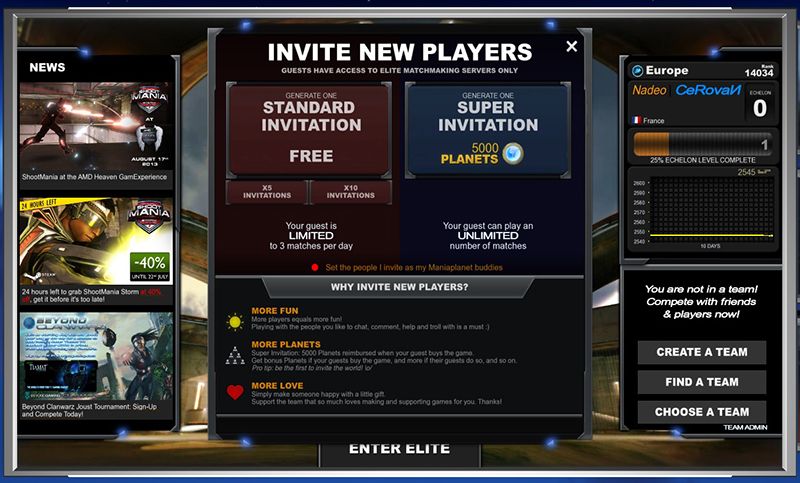 SWTOR F2P Chart
5k Planets for a Super Key?
Nadeo doesn't seem to realize the value of planets in their ingame economy. 5,000 Planets is a lot. You need 40k planets to buy an 80k server. Which is the standard for Elite servers these days. Since I've started playing Shootmania I've probably made 15-20k planets. I had to get planets from my friends to fund my 2 80k servers. If I only had the planets I earned I could get maybe 3 super keys. And I can't get more planets in Elite since I'm already around the 75k lp mark. It will cost 80k planets for 90k servers. Nadeo acts like planets grow on trees. You can't even buy them with real money and they expect us to beable to spend 5k planets on a whim. For someone whose not even guaranteed to buy the game. It should be no more than 1,000 planets. Enough that whenever a new player buys the game they can give out 5 super keys to their friends.
3 Games?
Nadeo expects 3 games a day to be enough to convince a player to buy a game. How about 3 games and then a 30 minute break. Also allowing them to spectate for their break. This was something discussed in the alpha for the Invite system that was never commented on. It would likely keep players interested as this game is fun to watch.
Matchmaker Only?
Only being able to play in the matchmaker is a horrible idea. While in Europe there is a 2 minute wait time for a match in North America it says the average wait is
30 minutes.
You think someone will wait 30 minutes to play a game for the first time. Not likely. Also that means their friends that invited them will have to play in matchmaker and it's random maps. This is much worse when we are practicing for ESWC, ESL, and other things. We want to play the maps we like. Not these random maps you give us.
You already have enough limitations for this Invite System like No Map Editor, Elite Only, and not being able to change name, model, horn, crosshair, etc. There is no need to go over the top like SWTOR. Look how that turned out. It is one of the biggest jokes of a f2p system to this date.