Nerrio wrote:Or not. (but ty)
I think he means it will be fixed in the next update.
Ty Eole for the quick fix

----
Also re-reporting an old bug. It only occurs at night / mornings & afternoons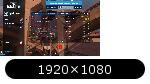 Could you please fix this too with the next update? Thank you very much.