Moderator: English Moderator
why was the option to select all replays in a folder deleted?

---
I think this bug regarding Fog in MT blocks/clips should be fixed pretty soon. It's kinda breaking some already existing maps. An empty mt clip won't make the fog go away, and it will stay there even after restarting the track.
viewtopic.php?f=468&t=40835
Specs
Motherboard: Asus ROG Maximus VII Formula
CPU: Intel(R) Core(TM) i7-4790K CPU @ 4.00GHz (8 CPUs), ~4.0GHz
GPU: Nvidia GeForce GTX 980 Ti
RAM: 16GB
Operating System: Windows 10 Pro
---
My game began working now, same things didn't work previously but now it's all good.
wormi27z, wormi, w_rmi, kybermato, Worm, previously from teams [DFF], pls., Don|, PENTA>>, PkD/, [FBR], nyan'
---
Posts: 109
Joined: 02 Aug 2011, 14:03
Manialink: kalkulato@seznam.cz
Location: Velim, Czech Republic
Contact:
I dont know. if there is someone with this problem, but its very frustrating for me ... Every third, fourth map switch on server causes fall of the game .. sometimes falls in editor ... too frustrating ...
---
Im looking for the custom cars fix

Everything else is ok for me.
Cheers.
---
Posts: 2
Joined: 10 May 2017, 15:10
PlayinFreak

wrote:

↑

10 May 2017, 15:34

Hello,

whenever I start Maniaplanet, the resolution of my computer goes huge for one second and the applications on my desktop get completely out of order permanently.

How it is supposed to look:

https://www.dropbox.com/s/5a6did285n35o ... l.PNG?dl=0 How it looks now: https://www.dropbox.com/s/xuwo5qw5pcxfn ... ..PNG?dl=0

It would be great if anyone knew what's going on.
I now know how to fix the problem. My game has set the default resolution to 3840x2160, so just open the ManiaPlanet tab, go to "configure" and lower the resolution of your game to whatever your computer supports (1920x1080 in my case).

---
There is no HUD when you validate a track
---
Iceman:
The HUD issue has been reported by a few people and Hylis mentioned earlier that they should have a fix for it soon.

ToaOfJustice

wrote:

↑

12 May 2017, 02:41

... But then, when I tried to access the Stunts title, I got an odd message saying that I do not yet have access to Trackmania² Lagoon.

...

...This issue also affects the all-in-one Trackmania² title. I just read about the Lagoon beta. I guess I need to wait until I can get access to Lagoon before I can access either the Stunts or all-in-one Trackmania² titles...
Same.
I assume when Lagoon is released Trackmania² Title will work if TM² Lagoon is purchased?
Is there a way to play this Title in the meantime or will it remain unplayable until release of Lagoon on MP4?
At the moment tracks made with mixed environments either can't be played or are using the default environment car and thus don't work properly.
CPU: Intel I7-4770 64Bit @ 3.4Ghz.
Ram: 32GB DDR3
GPU: Geforce GXT 1060 6.2GB DDR5
Windows: 7 Pro SP1 64bit
---
I have some lightmap/shadow bug since mp4
maps I calculated are shown correctly to other players but not for me
I already tried reinstallation and even reinstalled windows on my pc
I have a gtx970
here is a comparison of one part of a map (mine is left, the friends display is right)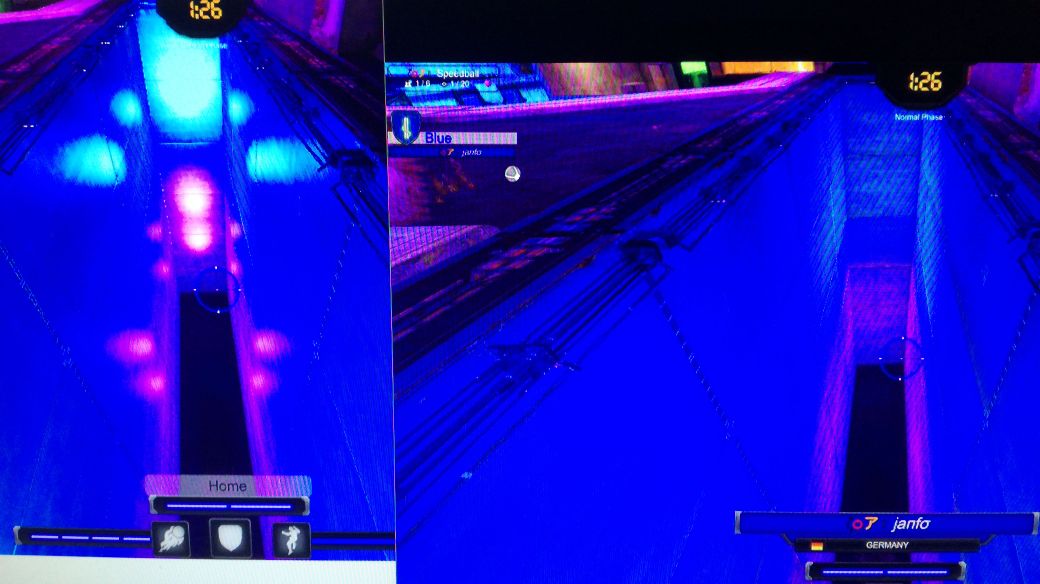 you can clearly see the lightpoints (they are items from nolimit pack) it worked fine before mp4
this problem is not only with items its on all maps and every mode it seems
I hope someone can help or lightmap will be adressed in a future update/bugfix
thanks for reading/answering

---
Hello
There is a problem concerning the solo ranking of maniaplanet, this concerns, I think the 3 environments of mp4! With my friends wanted to know the comparison, I put here 4 screen shot of me on canyon of the world ranking, all are different!
Picture is My friends : 'Quentin 43' , 'Kappah, 'Talkie' and 'Me' :
'Quentin 43'
'Kappah'
'Talkie'
'Me' (Jak-Jak)
There is also the problem of the top bronze silver medal, do not know are useful, quentin and I have bronze while kaapah and talkie one in silver!
Quentin / Kappah / Talkie / Me
Thank you also to solve the problem.

Thank you

---
Users browsing this forum: No registered users and 1 guest