Screenshot made by

Timania

!
14th of August 2013
-
Bluetooth
decided to host a
SmurfsCup

in Royal
. Barely 10 players joined.
One month later he gave it second try and
30 players
jumped in! From this day on the SmurfsCup Royal got hosted (almost) every Sunday.
5 years later
- Despite the game lost the majority of it's playerbase, the SmurfsCup Royal is still very popular. Like fate is giving us a wink, the
250th

SmurfsCup

Royal
will be hosted on
19th of August 2018
. So almost exactly 5 years after the very first Cup!
5 years are a long time and thanks to some work by
Tilli
-

Klaus
we now have some
statistics
to share with you!
- At this point
2184 different players
did join our cups!

- The top 10 players that got the most points in all Cups together: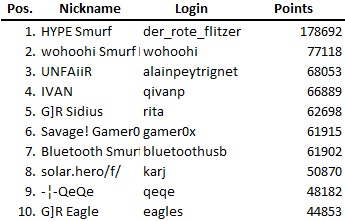 - The top 5 players that won the most Cups so far:

To check all statistics of all 2184 players that played so far, download this excel file:
Statistics of 250 Royal Smurfscups
On the

19th of August

we want to celebrate 5 years of Royal

SmurfsCup

together with you at the

250th

SmurfsCup

Royal at 8 pm CEST!
Like in previous cups of this kind, we will pick the
five best maps
we can find (they are yet to be decided and will stay a secret until the cup), rise the
player slots on the server to 32
and the
point limit of each map to 300
!
As additonal prizes we have something very special this time. Nadeo was kind enough to sponser
6 maniaplanet goodies
. Half of them for the
best 3 players
and the other half of them will go to
3 random picked players that played all 5 maps!