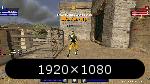 Redesign F3 (<<join) // F4 (join>>)
Join what???? Why the arrows? + One of the buttons never works depending in what team you are.
Why do you add 2 buttons for 1 function? I dont understand these 'stupid' mistakes.
The buttons make you switch team. So make 1 button that says 'switch team'.
I dont understand why you made something this easy to something this complex.
Also, in other games , the button is not even shown. You just press a button on your keyboard and ,voila , you changed team.
--------------------------
Remove Blue+shield // Red+shield
we can see that its blue vs red because of the background of the playernames + You can see it on the scoreboard + sometimes the score pops up at the top of the screen. In no other game you see the 2 teamnames 24/7.
Remove it. I consider it extra extra clutter on the HUD.
---------------------------