After some "acceptable" games, this happened: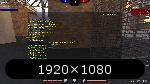 3 RQ's
in the enemy team ( all 1 by 1 )
Sub joins when its 0-6 (for nothing ofc and plays alone)
He loses 9-0
He loses LP
Nobody
enjoyed the match.
Dur

If matchmaking stays like this I'd like to play on public servers. Unfortunately I cant rank on public servers and nobody is playing anyways.
I can stop posting if you want, but this is the harsh truth of ShootMania MatchMaking. How can you even ask us to be patient with this gamestate.