And once again it is time for a big update

This time we've done even more innovation in the windowing system and hope it will bring pleasure ...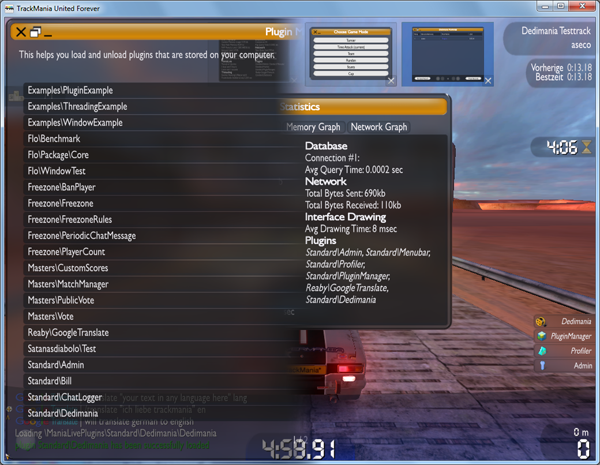 Upgrade
Since release r1830 you can use the the Updater script which will do all the dirty work for you.
On windows simply execute ManiaLive/update/update.bat.
For linux you need to navigate to ManiaLive/update and then execute "php update.php".
Download
If you want to upgrade from any older version or this is your first install, go to
http://www.manialive.com
.
See the download tab for the latest release, download and extract it.
Plugins
As always you can download just the core, but that won't do much

Download the new plugin package on:
http://code.google.com/p/manialive/downloads/list
Extract it to the ManiaLive folder. After that you need to add the plugins in your config file so that they are loaded (read the wiki on the google project on how to do that).
Features you should know about
You have now the possibility to make your windows maximizeable. Use the onResize method to react on a size change of your window to make it most dynamic - you can take a look into the standard plugins on how to do this. You will also need to tell the window that it should display the maximize button by using
$this->setMaximizable();
This is however only possible for ManagedWindows, like the window borders that now are automatically drawn.
If you want to give your ManagedWindow a title, you can do so by using
$this->setTitle('Whatever');
Do both of these things either in the constructor, or after getting the window instance with Window::Create($login).
To use the WindowHandler features you don't have to get its instance anymore, all the methods are static and accessible from anywhere, like
WindowHandler::showDialog($dialog);
which will display the window above all others and deactivate all buttons below.
Furthe on, a new feature is the buzzing of windows, which you can use as a static method of the window class.
For example:
MyRecordWindow::Buzz()
will highlight all windows of that type that are currently minimized by any player.
There has been some deeper changes too, of course. I will short address the ones that are (maybe) going to break compability to previous plugins:
First I have renamed the Window's onShow method to onDraw (so make sure you rename it in your code as well ...) and also the onRecover to onShow.
Finally, if you call a public method of a plugin now, the pluginid is appended as last parameter and not as first one - make sure you use all parameters on a call otherwise the pluginid will end up at the wrong position!
Changes
+ dialog window now uses autonewline.
+ windowhandler has been updated.
+ general architectural improvements of the windowing system.
! managedwindow will now always have background and window border with buttons.
* managedwindows can be maximized.
+ windows can be buzzed now, which will generate blue flashing.
+ dialog windows can be displayed without reference/parent windows.
! renamed onShow to onDraw and onRecover to onShow.
+ threads have access to the Loader::config values now - introduced data sending to threads.
+ using new run script for linux using hand-detaching instead of ssdaemon
+ features new manialib version.
- fixed issue 14 uses login now instead id.
! when calling public methods of plugins the pluginid is added as last parameter now.
*/! from the next release on version numbering will happen based on the google code revision.